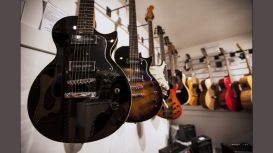 Filling the gap for a quality music store in the Heart of Angus. Instrument sales and repair, tuition and sound advice. This charming and thoughtfully stocked music shop was established in June 2012 by Kevin Skelly and Ruth Arthur.
The shop offers a relaxed and friendly atmosphere, perfect for customers trying out a new instrument or just seeking advice. Situated in the centre of Forfar High Street, customers will find easy access and parking.
Combined Kevin and Ruth have over 25 years of experience in the music industry, their experience and enthusiasm for quality equipment and the commitment to a friendly and knowledgeable service has earned them the trust and respect of the local and wider music community.
---
Services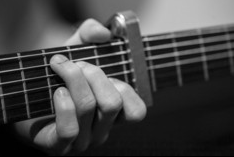 Lessons are held at the #Sharp Music Shop, six days a week. Contact us to discuss and book a suitable time for your lesson. Alternatively, why not treat someone to a TUITION VOUCHER. Visit the shop to collect a £15/half hour session voucher.

As well as the sheer fun and enjoyment of learning to play an instrument, there are more subtle benefits too. Young maestros will find, but perhaps without realising it, that their reasoning and problem solving has improved. This is great for enhancing mathematical and language skills. It can also be a useful exercise for one's memory, concentration and self discipline. Of course learning an instrument ultimately leads to creativity which is a wonderful enhancement for a young person's self esteem and sociability.
The younger generation don't have the monopoly on learning an instrument though ! "Grown-ups" can also benefit from music tuition. It may well preserve, re-establish or maintain a youthful outlook on life. Without making too grand a claim, it must surely be agreed that music promotes relaxation and therefore can help alleviate anxiety, a common symptom of our hectic lives.
Here at # Sharp Music, Kevin provides a unique and successful approach to tuition. At your first appointment, he will establish what your musical goals and aspirations are. You will then receive a course of bespoke lessons. For example, this could be a person giving him a "wish list" of songs they want to learn or it could be a comprehensive music course involving chord structure, notation, song breakdown etc.
Whatever your aims are, you are guaranteed not to be bored and you WILL enjoy yourself whether you like it or not ! Many pupils have attended Kevin's classes for several years and have become friends, and several pupils have gone on to pursue professional and amateur music related careers.
Reviews and Ratings
We do not have any reviews about Sharp Music available right now.