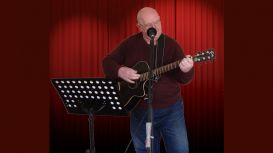 Pendragon Music School is the culmination of a life time's dream. I have always loved music and have quite an eclectic taste. Ranging from 60's pop through Prog Rock, Metal, Jazz, blues all the way to world and new age music, and of course not forgetting Classical. I have been playing guitar on and off for nearly 50 years.
Pendragon Music School came into being after I was made redundant in April 2013. I am at that age where I feel too young to retire but employers consider me too old to employ. So I decided it was time to set up on my own. But me being me I could not do things the easy way. The premises I rented required a lot of work. The main room needed to be divided into 3 rooms, one for drums, one for vocals and a reception area.
The premises had been empty for 3 years so there was a lot of cleaning and painting to be done, it took quite some time but we got there in the end. Only big thing left to do is get the carpet down on the floor at the top of the stairs.
---
Reviews and Ratings
We do not have any reviews about Pendragon Music School available right now.