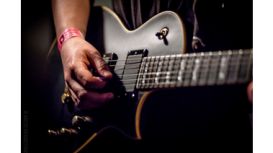 From 8 to 80 it's never too early or late to learn guitar. Learn Guitar Sheffield lets you choose your direction and lessons are personalised to meet your own goals whether they be playing in your bedroom or stage, playing rock, country, pop, metal or funk.
If you don't know where you want to go, don't worry, we have you covered too with a syllabus with the all the techniques you need.
"Can I play this song?" - Yes! This will be worked into your lessons whether it be Jimi, Dylan, Metallica or Arctic Monkeys.
---
Services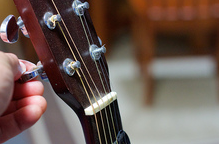 Specialising in beginners:
Knowing where to start can be incredibly daunting, feeling comfortable and at ease whilst learning will help you get the most out of your lessons. Sheffield guitar teacher Richard specialises in beginners and musicians that are very new to the instrument learning in a relaxed, fun and achievable way. All lessons are personalised to your goals so ask yourself; "what do you want to play?"
Electric and Acoustic Guitar Lessons:
In Sheffield guitar lessons you will learn the skills, techniques and theory to help you become the best guitarist you can be. All lessons are taught in a personalised way and will get you playing you music you want to play. For anyone that doesn't know yet and for the younger students don't worry, lessons will be planned to take you through the steps so you can choose your own destiny whether preparing for Grades, Rockschool or playing some Dylan on a park bench.
How to choose and care for your guitar:
These Sheffield guitar lessons won't leave you to fend for yourselves either. You will learn all the practical skills you need to care for your guitar; from cleaning to re-stringing, tuning to travelling with your guitar. Advice will also be given on which guitar to buy for whatever your budget along with help covering gear set up and how to choose an amp.
Reviews and Ratings
We do not have any reviews about Learn Guitar Sheffield available right now.