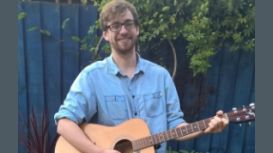 My name is Tom and I am a professional guitar teacher based locally in Ipswich. I teach both electric and acoustic guitar to all ages and levels, covering all musical styles! So whether you want learn Hannah Montana or Metallica I have the guitar lessons to help you excel when learning the guitar!
My guitar lessons are specially tailored to help you learn guitar even faster. With the songs we learn driven by your musical taste our guitar lessons are always fun and engaging. I teach loads of beginners all the way up to advanced guitarists so whatever your level I can help you achieve your aims on guitar!
I teach many of my students in the comfort of their own homes and I would be happy to come to you to teach as well.
---
Services
I know just what it feels like to go to your first guitar lesson, I was there once too! You really have nothing to be worried about though as great teacher have a way of relaxing you, helping you to concentrate on learning to play the song that you are passionate about.
I teach both electric and acoustic guitar, covering all styles so no matter what type of music you listen to I have the guitar lessons that will get you playing along with it. I am focused on enabling my students to learn through the music that they enjoy, encouraging to practise it at home and develop their skills through my individually tailored guitar lessons. I teach all ages as well, so whether you a eight or eighty we can build a course of guitar lessons that will have you playing in no time.
Reviews and Ratings
We do not have any reviews about Guitar Lessons Ipswich available right now.